Welcome to North City Neighborhood Association!
Welcome
The North City Neighborhood Association is one of 14 neighborhood associations in the city of Shoreline. Our volunteers help to create a sense of community by organizing social events, coordinating Shoreline Watch activities, implementing Neighborhood Mini-Grant projects, planning speakers, and sharing information through newsletters, websites and email.
Sign up for our email list to receive event invites and occasional news updates.
For more information, email us at info@northcityna.org.
iCal
Upcoming Events
Aug 11, 2020
The 14th annual North City Jazz Walk will be held on August 11 at 7pm.
Unfortunately, due to the COVID-19 pandemic, it will be on-line only. On the plus side, it will be completely free!
Artists include:
Greta Matassa
Jensen Findlay Tate Trio
The New Triumph
Pearl Django
News
The Stride Bus Rapid Transit (BRT) project on SR 522 and NE 145th is the result of a grassroots coalition that advocated for better transit for north Lake Washington communities.
The Stride S3 Line, or the SR 522/NE 145th BRT service, will connect north Lake Washington communities to the regional transit system with fast, frequent and reliable transit service. Riders will be able to transfer between the SR 522/NE 145th Stride S3 Line, I-405 North Stride S2 Line, Link light rail, and other transit services provided by Community Transit, King County Metro and Sound Transit.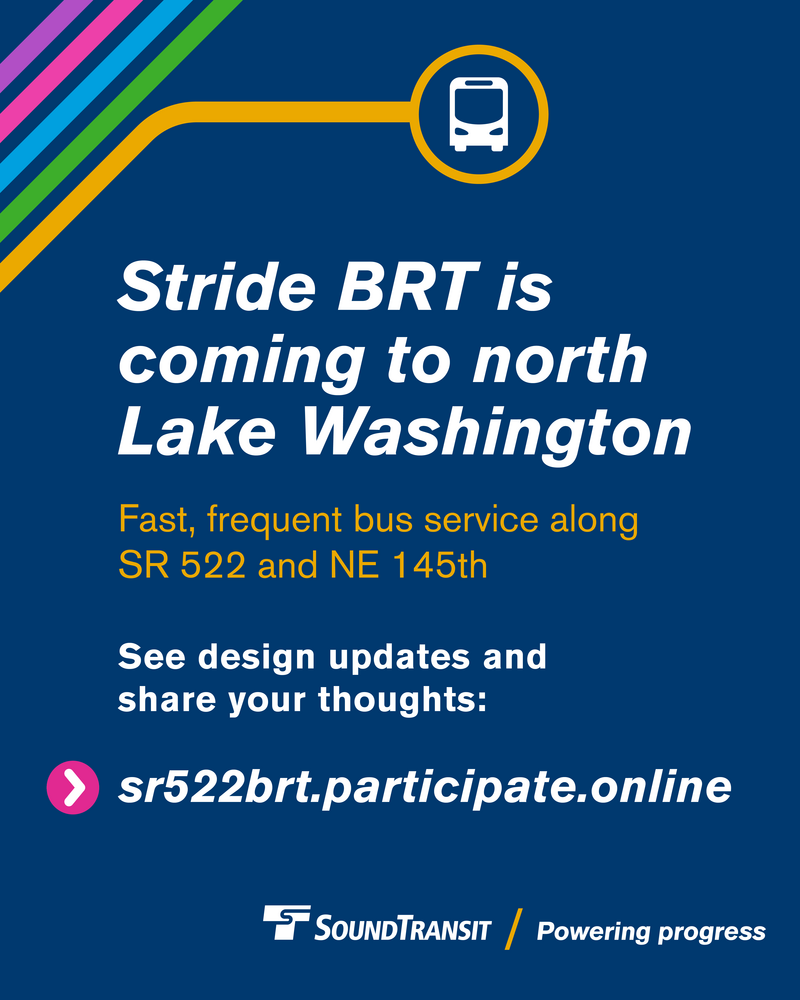 ---
Changes are coming to 175th street between I-5 and Stone Way. Planning started in 2019. The City has now developed "design concepts" for the project and would like to gather community feedback on them before choosing a preferred design.

Visit 175corridor.participate.online to view and give feedback on the design concepts the City has developed for roadway, bike, and pedestrian improvements to the N 175th Street corridor between Stone Avenue N and I-5. Concepts also include intersection improvements at N 175th Street and Meridian Avenue N. Design concepts are based on feedback collected in the spring of 2019.
---
The NE 195th street pedestrian overpass across I-5 will be closed for several weeks this Summer to facilitate the constructions of the Lynnwood Link light rail extension. The closure is scheduled to start on July 6 and expected to last roughly six weeks.
The nearest alternate pedestrian routes across I-5 are at NE 185th and at NE 205th.